Due to a severe and dangerous blizzard, the Iola Trail Run has been postponed.
The new date is set for Spetember 22. All registrations will be honored as registrants in the new September 22 date event.
I've just spent two days on the trails at the Iola Winter Sports Club, site of next weekend's 15K & 5K Trail Runs - and the conditions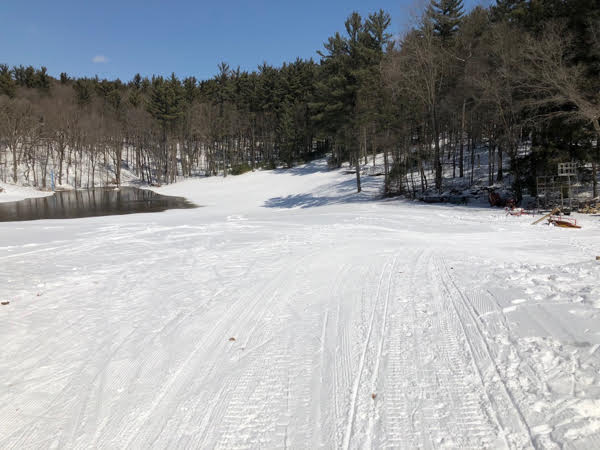 are spectacular. Strange you might say
Trail Runner Magazine has announced its 2018 Trophy Series. It includes top trail races across the North America from March 1 to September 30. The following GLE race have been selected: Iola, Two Hearted, Waugoshance, Grand Island, Tahqua and Conserve School. Participation in any of these events automatically enters you into the series. Points are awarded for several categories, including number of races, total number of miles raced and placement in each race based upon age group finish. Prizes include a guided running trip in the Alps and a trail running tour in the Esplanade Mountains of British Columbia as well as a wide variety of trail running gear. Numerous past GLE participants have won Trophy Series national awards.
Michigan based Merrell Footwear will join Great Lakes Endurance as Footwear Sponsor for the 4th year. Merrell, based in Grand Rapids, Michigan offers a full line of trail running footwear in addition to hiking boots, winter footwear, casual shoes and sandals designed for the active outdoor athlete. Runners will see field reps at most GLE events this summer with the full line of Merrell trail running shoes. Look for their updated trail racing shoe, the All Out Crush 2, a lightweight but stable shoe with superb traction. In addition their Agility series offers a rare combination of heel cushioning and exceptional forefoot proprioception. Overall male and female winners in our long races (15K - 50K) will be awarded certificates for a new pair of Merrell trail running shoes. Merrell will also supply additional gear for door prizes and other awards.

Tahquamenon currently has a 22" snowbase. The race course is groomed daily for classic skiing but will feature a wide smooth, corduroy surface for ideal racing conditions