Iola Trail Run

15K & 5K
Iola, Wisconsin

September 22, 2018
Great Lakes Endurance introduced the Iola Trail Run in 2011 and it has quickly become a favorite trail race on the Spring calendar. The venue is the much loved Iola Winter Sports Club with its famed cross country ski trails on rolling terrain carved by glaciers 10,000 years ago. The 15K includes a classic section of the Ice Age Trail. A donation from this event is made to support youth skiing programs at the Iola Winter Sports Club.
Beautiful Conditions at Iola
I've just spent two days on the trails at the Iola Winter Sports Club, site of next weekend's 15K & 5K Trail Runs - and the conditions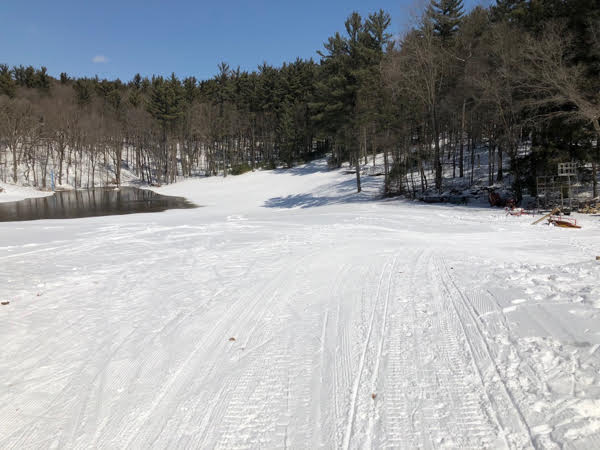 are spectacular. Strange you might say
as the trails received a foot of fresh snow last week and the trails were groomed with a smooth corduroy and tracks for XC skiing - and the skiing was extraordinary. Bright, high angled Spring sun on a near perfect surface winding through the forest, kettles and moraines of the Iola landscape. But we have a trail run at this venue in less than a week, so I laced up my trail shoes and ran on the groomed trail a bit to check it out - easy running on an unbelievably luxurious surface - about a 1/2 inch of loose snow on a firm underlayer - cushy with good traction. I spoke with the Chief Groomer - the legendary Phil Jonsrud and he gave the OK to run the race purely on the ski trails. Runners will see some new terrain on the adjusted course and it will be a treat. So many I spoke with were just shaking their head, dumbfounded on how beautiful the trails were.
So if you had any doubts or ambiguity about whether to race this upcoming Saturday, the running surface will be smooth and the landscape gorgeous.
This represents a bookend of sorts. Those who ran our 5K at Treetops in Gaylord, Michigan last November remember the fresh snow on the course and what a blast is was running through it. We ended with snow and now we start with snow.
There are other reasons, of course, to sign up, including the locally crafted Oak Grove Dairy Cheese, one pound blocks to the top three in each age group, long sleeve race shirts from Greenlayer, and a assortment of local and organic foods for post race refreshments.
We hope you can join us this weekend in Iola. Registration is open all week through Friday night at 8:00 p.m.

2018 Iola Trail Run Event Schedule
Due to a severe and dangerous blizzard, the Iola Trail Run has been postponed.
The new date is set for Spetember 22. All registrations will be honored as registrants in the new September 22 date event.
| | | |
| --- | --- | --- |
| Event | Start Time | Registration |
| 15K | 10:00 a.m. | |
| 5K | 10:00 a.m. | |
| Kid's 2K | 11:30 a.m. | |
Registration
Online only.
Deadline: 9:00 p.m., September 21, 2018 or when race fills to capacity. Whichever comes first.
Total Participant Limit: 300 (both races combined)
Current Registration Status: Open
No race day registration.
No waiting lists.
Events
5K & 15K
Both races start near the chalet and are comprised of a combination of wide cross country ski trails, the Ice Age Trail and winding, forested single track. The 15K course follows the 5K course back to the ski chalet and then heads out on a challenging 10K outer loop.
15K Starts @ 10:00 a.m. Iola Winter Sports Club
Map
5K Starts @ 10:00 a.m. Iola Winter Sports Club
Map
Kids' 2K Starts @ 11:30 a.m. Iola Winter Sports Club
Aid Stations
The 15K has aid stations at 3.1 miles and 7 miles with water and Gnarly Hydrate. Runners are required to run with a refillable hydration system to be refilled at each aid station as desired. A volunteer will refill your hydration system with the beverage of your choice using a pitcher.
Post Race Refreshments
Door County cherry juice and baked goods.
2018 Iola Trail Run Fee Schedule
| Event | Until 7:00 p.m. September 21, 2018 |
| --- | --- |
| 15K | $50 |
| 5K | $35 |
| Kid's 2K | $25 |
Refund & Transfer Policy
No refunds. This means that once you have registered your entry fee will not be refunded for any reason by Great Lakes Endurance. Active.com offers entry fee insurance.
No participant transfers. This means you may not transfer your entry to anyone else.
No year to year transfers. This means that you cannot transfer your entry to any future events.
Event transfers. You may transfer from the 15K to the 5K until September 21, 2018. Email the race director ( This email address is being protected from spambots. You need JavaScript enabled to view it. ) to request an event change. There are no refunds for entry fee differences between events.
Please note: Personal checks will no longer be accepted by Great Lakes Endurance.
Awards
Event
Top Three in Each Age Group
All Runners
15K

One pound block of Cheese from Oak Grove Dairy.

Custom Race Shirt

5K
Age Groups
| Event | Age Groups |
| --- | --- |
| 5K & 15K | 15 & Under, 16-19, 20-29, 30-39, 40-49, 50-59, 60-69, 70+ |
| 2K | 8 & Under, 9-10, 11-12, 13-14 |
Environmental Measures
100% Recycled Fiber Race shirts.
Locally made Oak Grove Dairy Cheese for age group awards.
Post race refreshments are locally grown, organic or both.
All food waste composted.
Course marked with reusable flags removed directly after the event.