I've just spent two days on the trails at the Iola Winter Sports Club, site of next weekend's 15K & 5K Trail Runs - and the conditions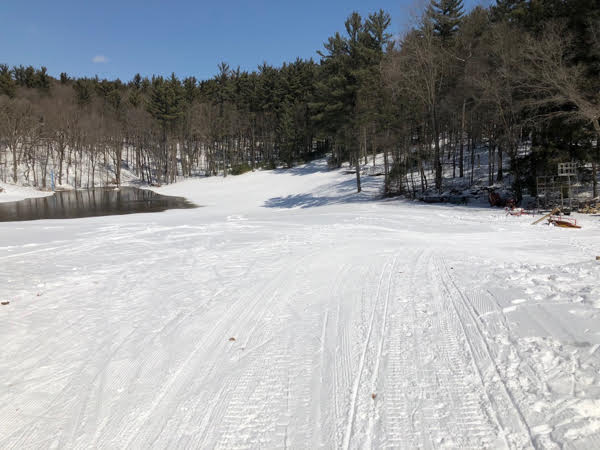 are spectacular. Strange you might say as the trails received a foot of fresh snow last week and the trails were groomed with a smooth corduroy and tracks for XC skiing - and the skiing was extraordinary. Bright, high angled Spring sun on a near perfect surface winding through the forest, kettles and moraines of the Iola landscape. But we have a trail run at this venue in less than a week, so I laced up my trail shoes and ran on the groomed trail a bit to check it out - easy running on an unbelievably luxurious surface - about a 1/2 inch of loose snow on a firm underlayer - cushy with good traction. I spoke with the Chief Groomer - the legendary Phil Jonsrud and he gave the OK to run the race purely on the ski trails. Runners will see some new terrain on the adjusted course and it will be a treat. So many I spoke with were just shaking their head, dumbfounded on how beautiful the trails were.
So if you had any doubts or ambiguity about whether to race this upcoming Saturday, the running surface will be smooth and the landscape gorgeous.
This represents a bookend of sorts. Those who ran our 5K at Treetops in Gaylord, Michigan last November remember the fresh snow on the course and what a blast is was running through it. We ended with snow and now we start with snow.
There are other reasons, of course, to sign up, including the locally crafted Oak Grove Dairy Cheese, one pound blocks to the top three in each age group, long sleeve race shirts from Greenlayer, and a assortment of local and organic foods for post race refreshments.
We hope you can join us this weekend in Iola. Registration is open all week through Friday night at 8:00 p.m.