We would like you to invite you to our 2nd Annual Treetops Trifecta on November 4th and 5th. It is the last event on the 2017 Great Lakes Endurance race calendar. Great Lakes Endurance is teaming up with the Treetops Resort in Gaylord, Michigan to host this exciting trail running weekend. A slideshow of the 2016 Treetops Trifecta is avalable for viewing. The Trifecta is comprised of three events over two days:

Saturday, November 4, 2017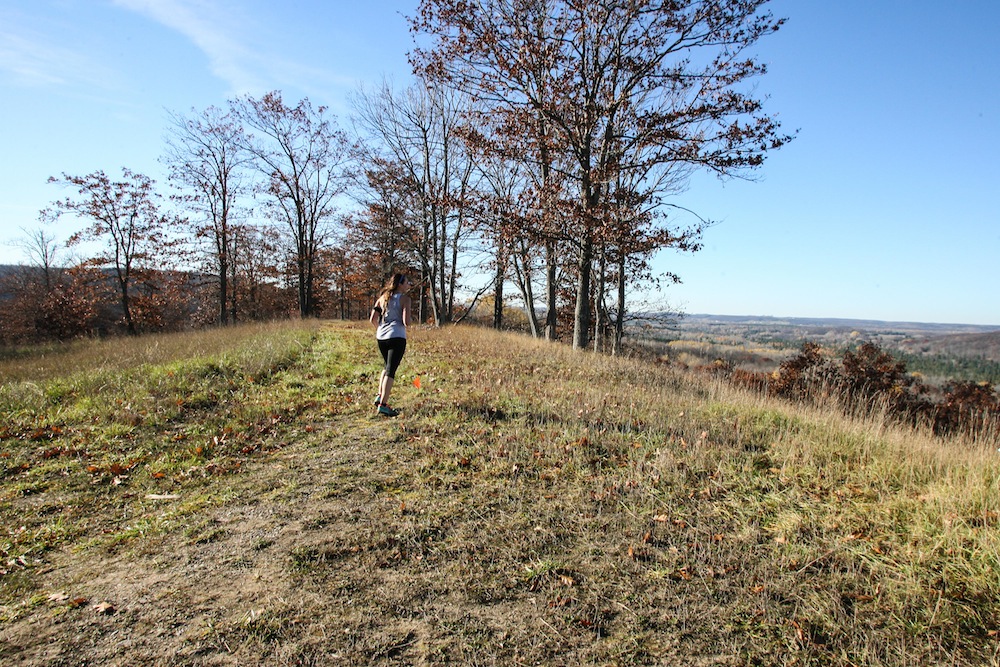 10:00 a.m. 5K on the Treetops Main Campus Single Track Trail
4:00 p.m. 1K Hill Climb on the Treetops Alpine Ski Hill

Sunday, November 5, 2017
9:00 a.m. Half Marathon at Treetop North Campus
This is a perfect weekend getaway with resort lodging and restaurants within walking distance of the 5K and Hill Climb. The half marathon on Sunday is a 5 minute drive north of the lodge.

The 5K is a challenging loop on mostly single track trail through hardwood and cedar forest. The course also includes pleasant sections of two track. The Hill Climb features beautiful panoramic views from the summit. The weekend's showcase event is the half marathon on Sunday. The course has three distinct segments: 1) Forested paths and fairways on the Signature Course. This section is similar to a cross country course. 2) Headwaters Conservancy Sturgeon River Preserve. Beautiful single track in mostly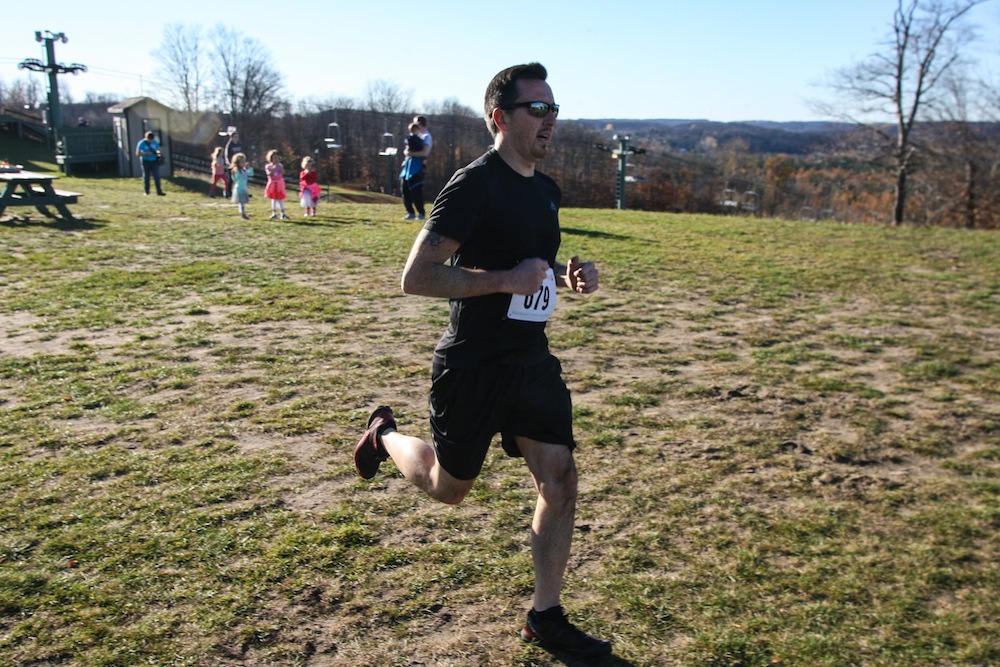 upland forest near the Sturgeon River, and 3) Project Nature. This segment features mostly wide cross country trails that climb up to perhaps the most scenic vista in Northern Lower Michigan. At about 6 miles runners emerge on to a high ridge overlooking the Sturgeon River Valley. There is also a peaceful section right along the Sturgeon River.
We hope you can join us for this exciting weekend of trail running at the Treetops Resort.
Results from the Conserve School Trail Half Marathon & 5K are now available. Runners ages 9 to 79 competed in the event held at the Conserve School in Land O'Lakes, Wisconsin.
Click here to view results on Webscorer.com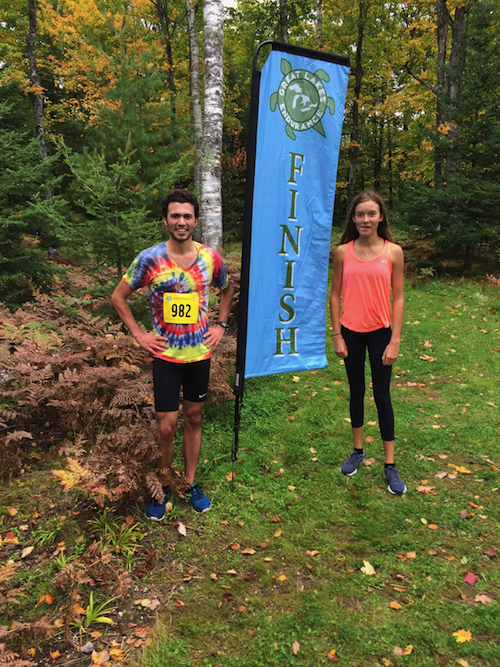 Endurance athlete and engineer Ed Verhamme captured the essence of the Grand Island Trail Marathon in his recent video of the 2017 race If you have never run Grand Island, it it a magical place to run. We invite you to the island the 2018 race set for July 21. Registration will open in early December.
The wettest course conditions in the 12 year history of the the Tahqua Trail Run greeted nearly 200 runners from 11 states, Canada and Germany. What might have been anticipated as a arduous struggle on the demanding Tahqua trail was instead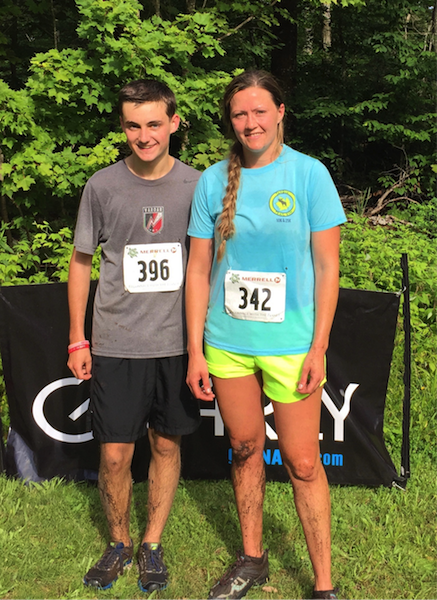 embraced by participants as an opportunity to play, to feel fully alive. Runners, young and old, including MeganPeters at age 9 and 74 year old Richard Cargin enjoyed the challenge. When Peters crossed the finish line her legs were coated in mud and shed is played an ear to ear smile, as if she had just done something that most kids rarely do. Not worried about what her mom might say, because her mom (and sister) also ran the 10K. Dad was running the 25K. Tommy Engelbrecht, like Cargin,a septuagenarian at age 73 was also full of joy after his finish. For Engelbrecht and others the race was a brief journey back to childhood.Abundant pools of water and mud interspersed the flowing single track between the Tahquamenon's Lower and Upper Falls. The mist of the raging Lower Falls bathed the runners between mile 1 and 2. From there it was an eclectic mix of smooth running, root-rock hopscotch, water pool splashing, mud sliding and stair climbing. As has been the tradition at Tahqua, a cross country runner won the overall title in the 10K. KevanO'Brien, who runs for Bloomfield Hills Brother Rice was one of only three runners to complete the course in less than an hour. He ran #5 on the Brother Rice XC squad that finished 3rd in Division I at the 2016 Michigan High School State Championships, but he was the overall champion at Tahqua. O'Brien finished in 54:41. He was followed by Tony Trzaskos of New Hudson, Michigan (55:32) of and Sean Hayden of Hinsdale, Illinois (57:14.6). Natasha Campbell of Lewiston, MI took home top honors in the women's 10K, finishing in 1:02:29, much to the excitement of her young children who greeted her at the finish. Jennifer Corbiere of nearby Brimley, MI was not far behind,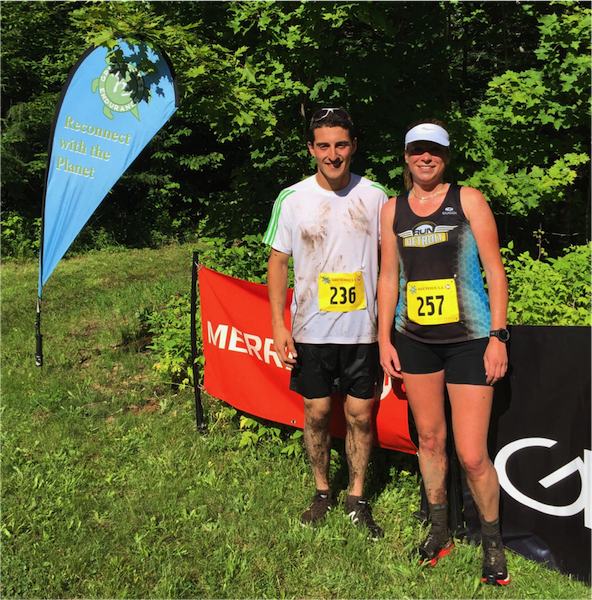 finishing 2nd in 1:02:46. The mother - daughter duo of Kim and Morgan Block of Petoskey, MI tied for 3rd in 1:06:54.
The 25K runners started their journey in the remote Tahquamenon wilderness and followed the North Country Trail to the Lower Falls. The first mile featured some water holes but runners enjoyed newly built boardwalk through the bog in the second mile. From there the course was dry through the pine swales and birch forested ridge lines. Runners enjoyed long stretches of flowing single track through carpets of reindeer moss and wintergreen that later transitioned to quiet valleys filled with abundant wild blueberries and ferns. When runners reached the lower falls they jumped on to the 10K course. Daniel Scarpino of Sault Ste. Marie, Ontario took the lead from the start and finished in 2:11:49, nearly 7 minutes ahead of his challengers. Scarapino, 23, was enjoying his summer before beginning his first teaching job in Canada. Their was an exciting race for 2nd, with Joseph Meyer of Comstock Park, MI out kicking Adam Flatt of Aspen, CO by less than a second, 2:18:54.5 to 2:18:55.2. Racing with the men was women's overall champion Cecile Dautriat, and automotive engineer from Plymouth, MI. Her time of 2:19:04 placed her 5th overall. She was nearly 15 minutes ahead of second place finisher Marlo Tadashore of Sault Ste Marie, Ontario (2:33:56). Heather Shoecraft of Ypsilanti, MI crossed the line in 3rd with a time of 2:49:30.
The top three runners in each age group received hand crafted ceramic bowls from artist Thomas Baugnet of Munising. Overall winners received Merrell gear or trail running shoes. All runners enjoyed hand made blueberry bread, iced coffee and Michigan cherry juice. Complete results are available at Superior Timing.